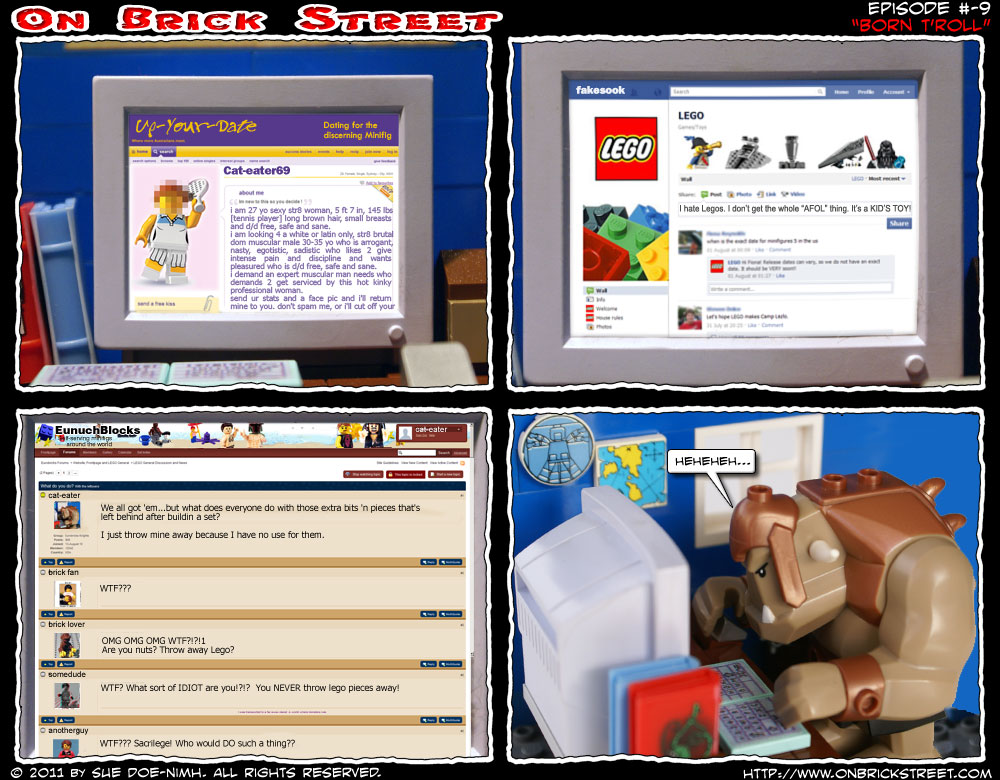 Born T' Roll

comes from Born to Roll by Masta Ace Inc..

Yeah.
I imagine this guy would listen to Gangsta Rap while Trolling the 'Net.
F'sho.
In internet terms, a troll is someone who posts something, usually on a forum or support site, that is so blatantly outrageous or ridiculous, that dozens, sometimes hundreds, of angry or outraged readers feel compelled to respond. This of course, is done deliberately by the troll to gain exactly that response.
The screen capture you see in panel two is a somewhat sanitised version of a real personal ad, written in 2008 by now infamous internet troll Jason Fortuny, and posted on popular website Craigslist. Fortuny placed the fake sex ad, pretending to be a woman seeking casual sex, and then published the photographs of anyone who responded. One of his victims filed a $75,000 lawsuit against Fortuny.
The screen in panel three is based on a real posting on popular Lego® fan forum Eurobricks. The original author claims they weren't trolling. Many other dismayed members aren't so sure... after all, who would commit such sacrilege?
This strip is part of the Trolling the 'Net theme. Trolls. On the internet. Who'd've thought?
This strip was originally published on Friday the 29th of July, 2011.
The permanent URL for this strip is https://www.onbrickstreet.com/?strip=-59.1.